Accessing locations throughout Georgia is quick and easy, as Georgia's highway system consists of:
International highways;
National and regional highways;
Local road networks.
Entering Georgia is simple, with about 1,565 km of international highways and 13 border checkpoints connecting Russia, Armenia, Azerbaijan, and Turkey. Additionally construction works are underway to add an additional 140 km of international highways, which will provide improved access to the both urban and rural production sites.
Tbilisi Airport is serviced by national and international carriers, as well as low-cost airlines, such as Pegasus Airlines and Atlas Global. The airport operates non-stop flights to 30 cities, including:
Yerevan
Airlines
Georgian Airways
Vienna
Airlines
Georgian Airways
Baku
Airlines
Azerbaijan Airlines & Qatar Airlines
Batumi
Airlines
Georgian Airways
Kutaisi
Airlines
Georgian Airways
Erbil
Airlines
Georgian Airways
Tehran
Airlines
Georgian Airways & ATA Airlines
Tel Aviv
Airlines
Georgian Airways
Amsterdam
Airlines
Georgian Airways
Warsaw
Airlines
Lot Polish Airlines
Moscow
Airlines
Georgian Airways, Aeroflot & S7 Airlines
St. Petersburg
Airlines
Georgian Airways & Ural Airlines
Istanbul
Airlines
Turkish Airlines, Atlas Jet & Pegasus
Odessa
Airlines
Georgian Airways
Kyiv
Airlines
Ukraine International Airways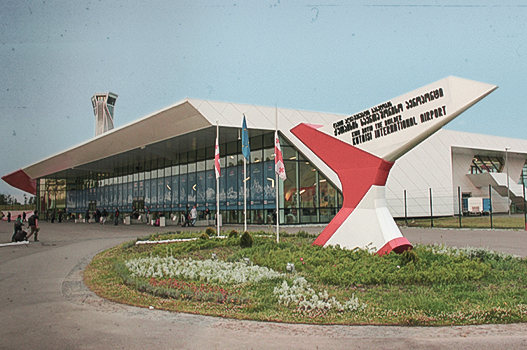 Kutaisi Airport, also known as "David the Builder Kutaisi International Airport" is located 14 km west of Kutaisi, the 2nd largest city in Georgia and capital of the western Imereti region. The airport is operated by United Airports of Georgia, a state-owned company. The airport is currently connected to Batumi and Tbilisi via scheduled public transportation to Kutaisi. Its flight network includes flights to 14 cities:
Kyiv
Airlines
Ukraine Int. Airlines
Batumi airport, renovated in 2007, is located 2 km south of Batumi and 20 km northeast of Hopa, Turkey. Given its unique location, it serves as a domestic and international airport both for Georgia and north-eastern Turkey and is the 1st airport in the region to serve as a shared facility between two countries. With a total area of 4,256 m2, the airport is capable to handle 600,000 passengers a year.
Georgia is a part of the Europe-Caucasus-Asia transit corridor (TRACECA) and represents an alternative route for strategic cargo movement from the Caspian Sea to Europe and vice versa. The railway links with adjacent countries include:
Azerbaijan (open), Tbilisi-Baku line;
Armenia (open), Tbilisi-Gyumri-Yerevan line;
Turkey (under construction), this line will connect with Akhalkalaki;
Russia (closed), via the autonomous Republic of Abkhazia.